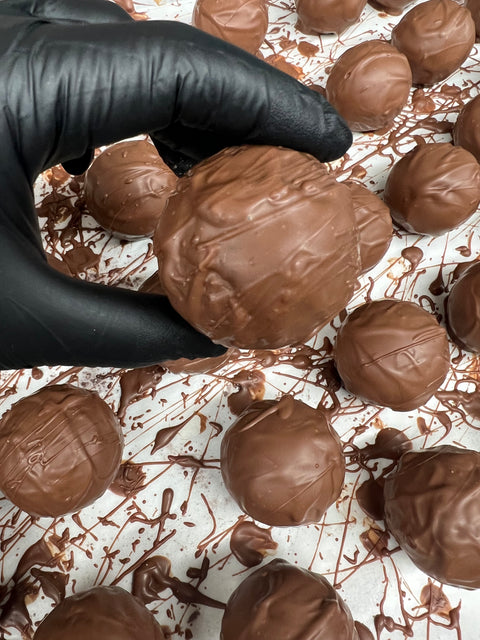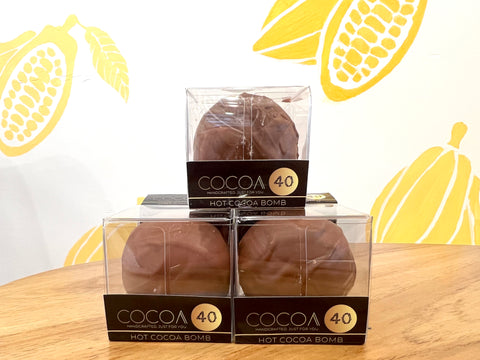 Cocoa40 Inc.
Gourmet Hot Chocolate Bombs
There's never been a better way to enjoy a warm cup of hot chocolate than with a hot chocolate bomb! Each bomb is made by hand with milk chocolate and filled with our gourmet hot chocolate mix & vanilla bean marshmallow.
How it works:

1. Steam 1 cup (250mL) of milk (dairy-free options also work well).
2. Remove the sphere from the packaging and add it to your favourite cup.
3. Pour the steamed milk over the hot chocolate bomb and allow it to melt for 30 second. Once the chocolate has completely melted, simply stir the mix and watch the marshmallow melt and enjoy!
Package Weight: 50g
Each bomb is sold individually and yields 1 serving. For larger portion sizes of hot chocolate, please purchase the dairy-free hot chocolate mix. 
Ingredients: 36% Caramelia Milk Chocolate (cocoa butter, whole milk powder, sugar, cocoa beans, whey, vanilla extract, sunflower lecithin), gourmet vanilla bean marshmallow (sugar, invert sugar, glucose, gelatin, vanilla bean), gourmet hot chocolate mix (icing sugar, cocoa powder, corn starch, vanilla bean, salt). May contain nuts.
Note: Product is fragile and not recommended for shipping.
My family just tried them and are really impressed. Said it is really quality chocolate and so much fun. Thank you so much!!!