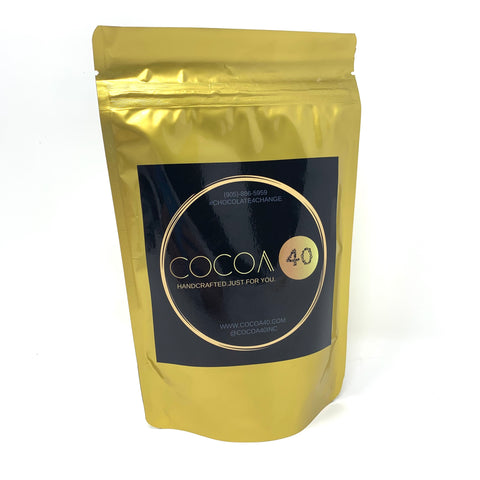 Cocoa40 Inc.
Gourmet Hot Chocolate Mix (Dairy-Free/Vegan)
Indulge in a velvety, chocolatey treat with this gourmet hot chocolate mix! Not too sweet, but oh-so-tasty, it's an irresistible beverage. Make a cup of delectably creamy hot chocolate by steaming a cup of milk then adding 3 teaspoons of the mix. This hot chocolate mix can also be added to your favourite dairy-free milk or water for a dairy-free/vegan hot chocolate.
Indulge with a cup of creamy, vegan hot chocolate – just add 3 teaspoons of this mix to 1 cup of hot water or your favorite dairy-free milk, stir until fully melted.
Optional: For extra sweetness and flavour, add 1-2 gourmet flavoured marshmallows. 
Package Size: 300g
Ingredients: sugar, dutch-process cocoa powder, cornstarch, salt, madagascar vanilla beans. May contain peanuts and tree nuts.