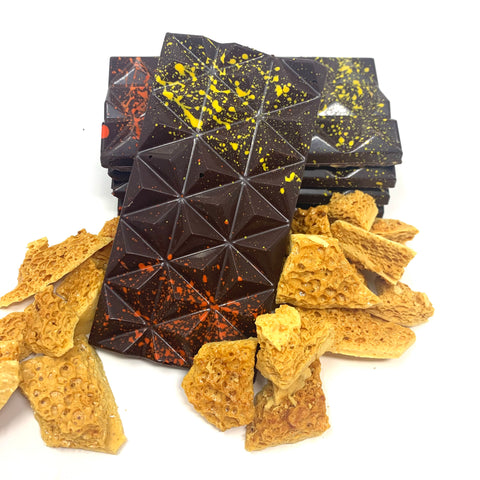 Cocoa40 Inc.
70% Honeycomb Crunch Bar (Dairy-free/Vegan) - #Chocolate4Change
This bar features 70% Guanaja Dark Chocolate and house-made honeycomb (also known as sponge toffee) for a sweet crunch! The best part about this bar is it's dairy-free and the perfect snack for vegan/lactose-intolerant chocolate lovers.
Package size: 85g
Ingredients: 70% Guanaja: (cocoa beans, sugar, cocoa butter, sunflower lecithin, natural vanilla extract), sponge toffee: (sugar, glucose syrup, water, baking soda, invert sugar), coloured cocoa butter: (cocoa butter, natural colouring).  
$1 from every chocolate bar sold goes directly to the organizations we support through the #Chocolate4Change program.