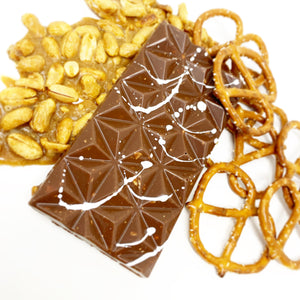 This bar was inspired by carnival snacks and features caramelized peanuts and pretzels in 40% Jivara milk chocolate. It's the perfect balance of salty and sweet with subtle notes of malt, vanilla and brown sugar.
Package Weight: 85g
Ingredients: 40% Jivara milk chocolate: cocoa beans, whole milk powder, sugar, cocoa butter, sunflower lecithin, vanilla extract, barley malt extract), candied peanuts, pretzels. May contain other nuts.
$1 from every chocolate bar sold goes directly to the organizations we support through the #Chocolate4Change program.
Imagine if you could be satisfied and content with your purchase. That can very much be your reality with the 40% Peanut Pretzel Bar - #Chocolate4Change.

Inventory Last Updated: Oct 02, 2023